Dates: June 3 and 4
The last two days of Maker Faire Galicia are open to all audiences. During these days, you will have the opportunity to immerse yourself in various experiences and explore the wonders of technology. Here's a glimpse of what you'll be able to enjoy:
Explore the world of electronic arms and discover their applications in various fields.
Dive into the pages of AI-GEN Magazine and keep up with the latest trends in artificial intelligence.
Discover the fusion between art and technology with Rubén Ramos Balsa, an expert in the field.
Delve into home automation and learn how technology can make your home smarter and more efficient.
Interact with the powerful GPT Chat, an innovative tool powered by artificial intelligence.
Marvel at the magic of 3D printing and discover how this technology is transforming multiple industries.
In addition, on Saturday June 3, we will dedicate an important part of the day to "social entrepreneurship". We will have prominent speakers who will address key issues to promote entrepreneurship with social impact. In this event, directed by Víctor Grande, scriptwriter and presenter, experts such as Celso Gándara, manager of Algalia and president of FOROESGAL will participate; Covadonga Toca, General Secretary of Emprego of the Xunta de Galicia; Margarita Ardao, General Director of Entrepreneurship and Employment Support of the Xunta de Galicia; Pablo de Miguel Morales from Autofabricantes; Ana Olveira from Abeluria Coop; Lorena Quintás, from Xogo de Fíos; and representatives of prominent organizations such as Grovemakers, Skeirrum, Ecos do Sur, Despunte and Cogami-Galega Social Economy.
During the weekend, we will also highlight a space dedicated to video games and the Assistive Technologies Hackathon. In the Hackathon, the participants will work as a team to find solutions to challenges proposed by entities such as ONCE, ASPACE Coruña and COGAMI Galicia.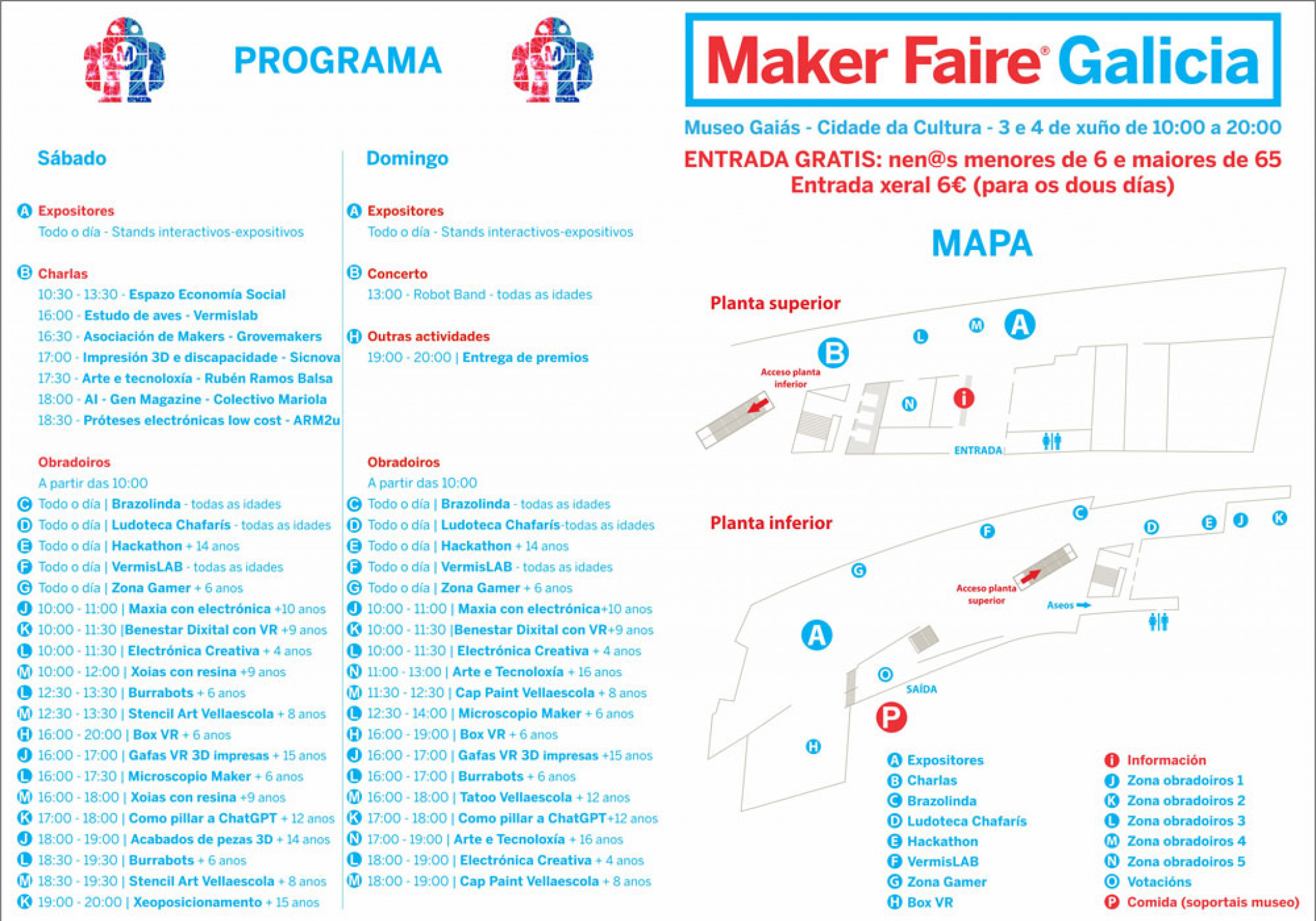 Attendance at this event is completely free in its online format. For the open days on June 3 and 4, there will be a cost of €6 for the face-to-face sessions. It should be noted that admission will be free for children under 6 and over 65.
Don't miss this opportunity to immerse yourself in the exciting world of technology at the Maker Faire Galicia Open Days! We are waiting with open arms!